By Men'sHealth.com | By Eileen Reslen| Photo by Sher Safran | Orignally Published 03.12.2018 | Posted 03.26.2019
Their deaths are protected under the Death With Dignity law.
After 66 years of marriage, Charlie, 87, and Francie, 88, Emerick of Portland, Oregon, died in bed together on April 20, 2017 after taking lethal doses of medication obtained under the state's Death with Dignity law.

The final days and hours of the Emericks' lives were captured on camera for the documentary Living & Dying: A Love Story, which the couple agreed to take part in as a way to commemorate them after their passing. It was produced by their daughter and son-in-law, Sher and Rob Safran, and contains conversations and preparations right up to the Emericks' deaths.
"They had no regrets, no unfinished business," Sher said, according to Time."It felt like their time, and it meant so much to know they were together."

Francie had suffered several heart attacks over the years, and her heart had grown weaker as a result. She died first within 15 minutes of receiving the lethal medication. Charlie, who had battled prostate cancer and was diagnosed with Parkinson's disease in 2012, died an hour later.
The couple reportedly held hands up until their final moments, and their eldest daughter and primary caretaker, Jerilyn Marler, said their passing was exactly as they would have wanted it. "That had always been their intention,'' she said. "If there was a way they could manage their own deaths, they would do it."
According to NBC News, the Emericks were part of The Hemlock Society, which was an assisted suicide advocacy group that existed from 1980 to 2003.
When it came time to plan their own deaths, they reached out to Linda Jensen at the End of Life Choices Oregon, a nonprofit agency that supports people seeking to use the state's Death With Dignity law. "They were pretty well informed," Jensen said. "What they wanted to understand was what a planned death really looks like."
Under the Death With Dignity law, qualified terminally-ill adults can voluntarily request and receive prescription medication that will facilitate their deaths. As of February 20, 2017, California, Colorado, District of Columbia, Oregon, Vermont, and Washington have Death with Dignity statutes. In Montana, a State Supreme Court ruling is required.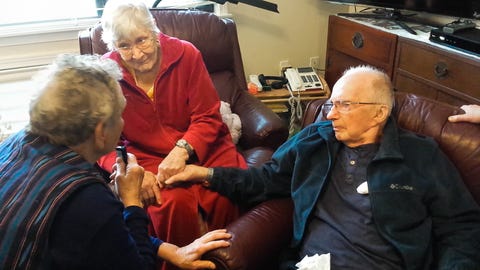 According to Oregon.gov, the law was passed in Oregon, specifically, in 1997 and about 1,127 patients have died from ingesting the medications.
I'm Eileen, the digital news reporter at Hearst Digital Media.