Courtesy of TheGuardian.com | By Hannah Ellis Peterson | Originally Published 05.24.2018 | Posted 06.23.2018
Full funeral rites from the monks of Bangkok's Wat Krathum Suea Pla temple used to be for humans only – until a new and lucrative market emerged.
Fou Fou always liked the good things in life. The pomeranian puppy had "a heart of gold" and a taste for expensive grilled pork. Varunthip Manthin loved the tiny dog as much as any of her sons.
When she discovered him dead in the road having been hit by a motorbike, she was inconsolable. Despite her grief Manthin knew one thing: she would give him a funeral worthy of her own child.
And so, on a Saturday morning, Fou Fou's body was brought to a small chapel in Bangkok's Wat Krathum Suea Pla temple, laid in a fuchsia pink coffin, set among a kitsch display of plastic flowers, and sent into eternity with the blessings of a monk.
The monks of this temple once only offered such funeral rites for deceased humans. However, that has recently changed as a new market became apparent: beloved pets.
Buddhists believe that as part of the samsara life and death cycle, dogs and cats – as well as elephants and horses – can potentially be reincarnated as humans. By giving their pets full funeral rites – including prayers for forgiveness, a blessing by a monk, filling the coffin with (fake) gold and "tickets to the next life"followed by full cremation – many owners hope to give them a better chance of returning to this world in a higher form.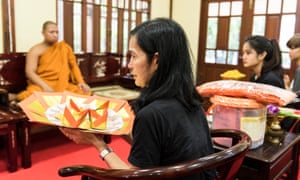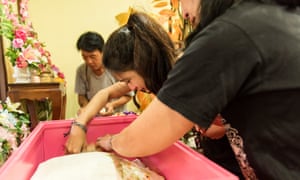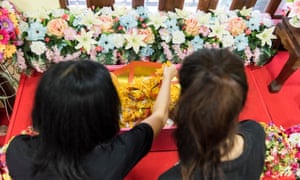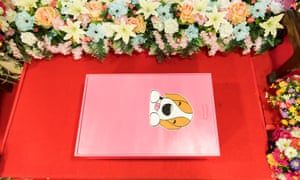 "I feel complete now that I can hold a funeral ceremony for him like I would for any of my children; I am a mother doing everything she can to honour my son," said Manthin through floods of tears, as she looked down at Fou Fou and scattered petals over his body, cozily tucked up inside the open pink casket.
"I definitely believe that Fou Fou will be reborn in the next life as one of my children because he was just so different from other kinds of dogs; he was just so clever. He understood me better than anyone."
After an emotional ceremony – during which Manthin and her daughter, Phatcharakorn Likanrapichitkun, 20, wore black and wept freely as the monk offered the last Buddhist rites and laid a sandalwood flower on the body – Fou Fou was taken for cremation. As his body was enveloped by flames in the vast marble oven, Manthin lamented that Fou Fou's best friend, the family cat, could not be with them to say goodbye.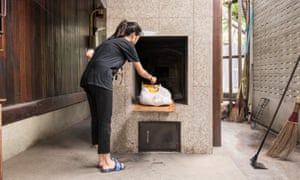 According to Theerawat Saehan, who organises the pet funerals, business is booming in Bangkok. The temple now performs up to 300 a month, and with each funeral costing 3,000 Thai baht (£70) for animals weighing under 20kgs (44lbs), and 4,000 baht for heavier animals, it is proving extremely lucrative. Most are dogs, though around 10% are cats, 5% rabbits and 3% reptiles; funerals have also been held for goldfish, catfish, monkeys, iguanas, a rooster, pigs and a small horse.
The idea came to Saehan, who used to own a pet grooming shop, after he was invited to the funeral of one of his canine customers. "It felt like a really sad occasion, not a proper funeral at all – just the burning and destroying the body of someone they loved like family. So I felt I must do something," he said.
He approached the Wat Krathum Suea Pla temple about holding a proper Buddhist ceremony with the monks, and managed to get their agreement. "Suddenly I had so many people contacting me, asking for me to arrange funerals for their pets too," he said. "We believe in the next life, so this ceremony is to help with reincarnation, to give them what they need."
As well as the funerals, monthly boat trips for scattering the ashes are also offered. Over 120 families taking part each month, ceremonially casting their pets' remains over the Chao Phraya River.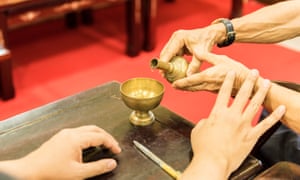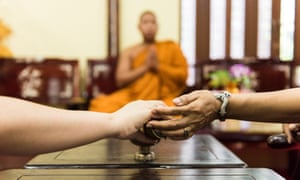 While most are satisfied with just one monk and a half-hour ceremony, the most extravagant pet funeral Saehan has been called upon to arrange was for a golden retriever belonging to a Thai businessman. Sixty monks and 80 guests attended the event, which featured a custom-made coffin and a motorcade funeral procession, at a total cost of 400,000 baht (£9,300).
But Saehan was most moved by the ceremony for Daam the street dog, who had lived in a Bangkok vegetable market. Opening up the envelope which contained the payment, he was moved to see it was made up of hundreds of small coins and bills, all donated by dozens of market stallholders. "I felt like this dog, even though he was a street dog, must have been very good to have been loved by so many people who wanted him to have a proper funeral," said Saehan.
On this particular Saturday, those overseeing the pet funerals barely have time to draw breath as a steady stream of heartbroken owners turn up at the temple, clutching their dogs, limbs stiff with rigor mortis, in towels or boxes.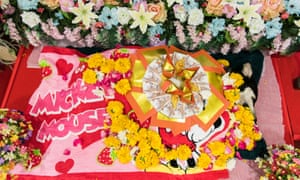 Ninja, a large mixed breed dog, causes a slight kerfuffle as he is too big to fit in a coffin; heis eventually laid out beneath a Mickey Mouse towel. He was diagnosed with cancer last year, and his owner Pimpha Darakon Na Ayuttha, 65, said she was glad he was finally no longer in pain. "Whatever animal you are reborn as Ninja, please come back to me, please come back and find me," she pleaded as Ninja's body was carried to his cremation.
Apicha Taninchotikorm, 39, looked forlorn and tearful as she stroked the body of Klom Klom, another pomeranian, who had died that morning. He was 20, and had barely been able to eat towards the end, but his death was still devastating. Klom Klom had been with her half her life, even travelling to university with her.
"I do believe he will become a human in the next life," said Taninchotikorm. "I think this was his last life as an animal, so I didn't want to bury him.
"We wanted this ceremony because it is the last farewell that we would give to any member of my family, he is not different. And I am glad we did it; it's a hard feeling to describe, but it felt important to say goodbye – I feel like we've sent him away to the heavens."