Courtesy of Vice.com | By Simon Davis | Originally Posted 07.05.2017 | Published 11.16.2017
LGBTQ representation is increasing in both cemeteries and obituaries.
On June 26, 2015, the US Supreme Court ruled in Obergefell v. Hodges that states were not allowed to ban same-sex marriages.
Greg Bourke and his husband, Michael De Leon, of Kentucky were plaintiffs in Bourke v. Beshear, one of the cases linked to Obergefell. Less than a year later in May 2016, their marriage now legally recognized, they faced a new hurdle: getting St. Michael Cemetery in Louisville to allow them to memorialize their marriage—and their activism—on their gravestone.
The design that Bourke and De Leon submitted had both their names side by side, below an image of the Supreme Court and a pair of wedding rings. The Archdiocese of Louisville, which owns the cemetery, rejected it, saying, "the depiction presented was not in keeping with Church teaching about marriage."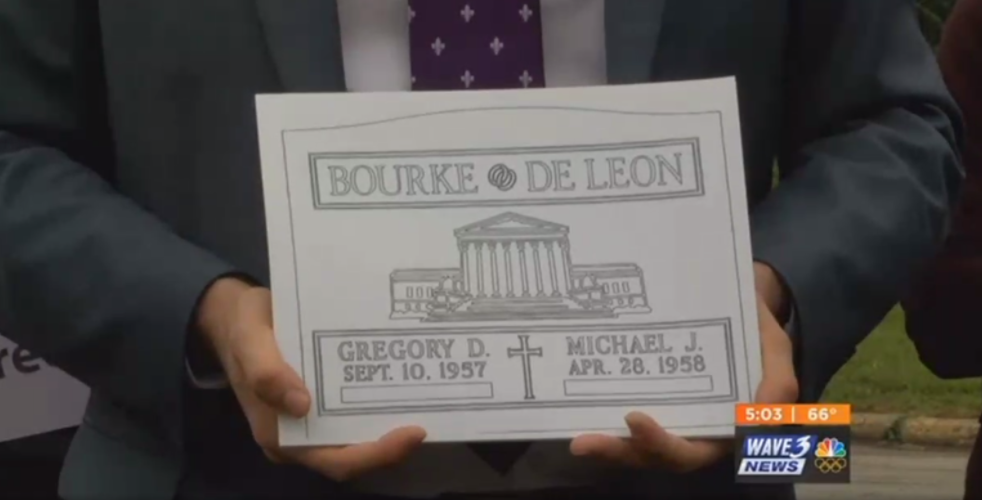 Bourke's family members are buried at St. Michael. If he and De Leon want to join them, their only recourse is apparently to submit a more heteronormative design the Archdiocese would approve of.
Historically, death for members of the LGBTQ community has signaled the beginning of a process of suppression of the fact that they were queer. This has played out in several ways, only one of which is restrictive cemetery regulations. Other times it's the doing of disapproving family members.
In 2014, Jennifer Gable, a 32-year-old transgender woman from Idaho, died of an aneurysm. A casual attendee of her funeral might have never known this, however—her family chose to present her body as a man's, with a death notice using the name she was given at birth. As of 2015, she is buried in an unmarkedplot next to her mother in Boise. Were it not for her friends going to the media and bringing attention to the matter, her death would've been more like a disappearance.
Gravestones aren't the only place where memorialization has historically been a vehicle for erasure. Written tributes of LGBTQ people have all too often included a lot of tiptoeing around the decedent's sexual orientation. The not-so-secret code phrase for gay men of "lifelong bachelor" still stubbornly shows up on a few dozen paid death notices every year.
Obituaries written by journalists have been better about at least not including such euphemisms. 
A search of the New York Times archive
 shows "lifelong bachelor" appearing in just three obits published in the 21st century. Going back to 1980, another 15 come up.
A practice harder to quantify is the omission of sexual orientation in obituaries. In a recent op-ed, New York Times columnist Frank Bruni chided obit writers—including some at his own paper—for failing to acknowledge that their subjects were gay. Bruni was prompted to write his column after speaking with television host Ted Allen, who was looking into James Beard's biography for a new PBS documentary on the famous chef. Bruni found that obituaries for Beard in 1985 had no mention of his homosexuality, even though he was quite open about it. Obits for Susan Sontag in 2004 and Sally Ride in 2012 were also cited for similarly leaving out their relationships with women. Bruni noted: "All of this adds up to an incomplete picture of our society and who shaped it. It adds up to a lie."
However, things might be changing in this regard. It should be noted that the Times's obituary desk has made efforts over the past few decades to acknowledge individuals' LGBTQ status.
The first instance I could find for a man whose homosexuality was noted in an obit was for playwright Tennessee Williams in 1983. Poet Audre Lorde was described as an "outspoken lesbian" when she died in 1992. Charles Strum, who was obituaries editor from 2000–2006, confirmed via email that a conscious decision to include same-sex partners had already been made prior to the start of his tenure.
A shift toward more openness seems to be making its way into the online obituaries for everyday people. Erin Grenier, director of operations at Legacy.com, the largest provider of paid death notices, told me via email that during her 11 years with the company she's seen a noticeable shift. "In my experience, people are acknowledging same sex partners and spouses much more often," she wrote.
According to data provided by the company at my request, between the start of 2010 and mid 2017, last year saw the highest annual count for death notices with the the terms "LGBT" and "transgender." Many times by members of the LGBTQ community themselves, other times by people who want to designate an LGBTQ charity for mourners to donate, or even just to show solidarity.
At most cemeteries, it seems mores are slower to change. In an email, A.J. Marik, who has been archives director at FindAGrave.com, an online database of cemetery and burial records, for 20 years, told me: "I've personally not seen any significant change in the frequency of LGBT-themed memorials."
Still, there are a few cemeteries across the globe with LGBTQ sections. In 2008, a Danish LGBTQ rights organization reserved 36 spaces for urns containing the remains of gay people at the Assistens municipal cemetery in Copenhagen. In 2014, a German lesbian group leased an unused portion of Berlin's Lutheran Georgen Parochial cemetery for 80 plots exclusively for lesbians.
However, the longest running such endeavor can be found at Washington, DC's Congressional Cemetery. Perhaps it might provide a model for others, though its circumstances are unique.
Congressional doesn't have a designated area for LGBTQ people. Indeed, LGBTQ individuals are buried all over the grounds. Nor did any organization try to create one. It all began with an act of posthumous agitation against one of the cemetery's most notorious permanent residents—former FBI director J. Edgar Hoover. Hoover, a lifelong bachelor himself (certainly in the literal sense), famously kept files on congressmen's sex lives, especially their affairs with other men. He was also rumored to be in a secret longterm affair with his FBI deputy Clyde Tolson, who is buried about 50 feet away from him.
In 1988, Vietnam War veteran Leonard P. Matlovich died from complications of AIDS. Matlovich made headlines in the 1970s as the first military service member to out himself as gay. His epitaph reads:
A Gay Vietnam Veteran
When I was in the military, they gave me a medal for killing two men and a discharge for loving one.
His grave is perhaps a hundred feet away from Hoover's. And not by coincidence. According to Congressional's president Paul Williams, "He did locate there as sort of an insult to Hoover and to make a point for future visitors about his treatment in the military." The spot became a gathering place for the LGBTQ community—both living and dead. "From there, others purchased plots to self-segregate and because Congressional would allow such inscriptions—as well as allow AIDS victims, whereas other cemeteries were not allowing them to be buried because they were afraid they would catch the disease." Today a visitor will find a cluster of colorful and unconventional LGBTQ-themed graves located around Matlovich's.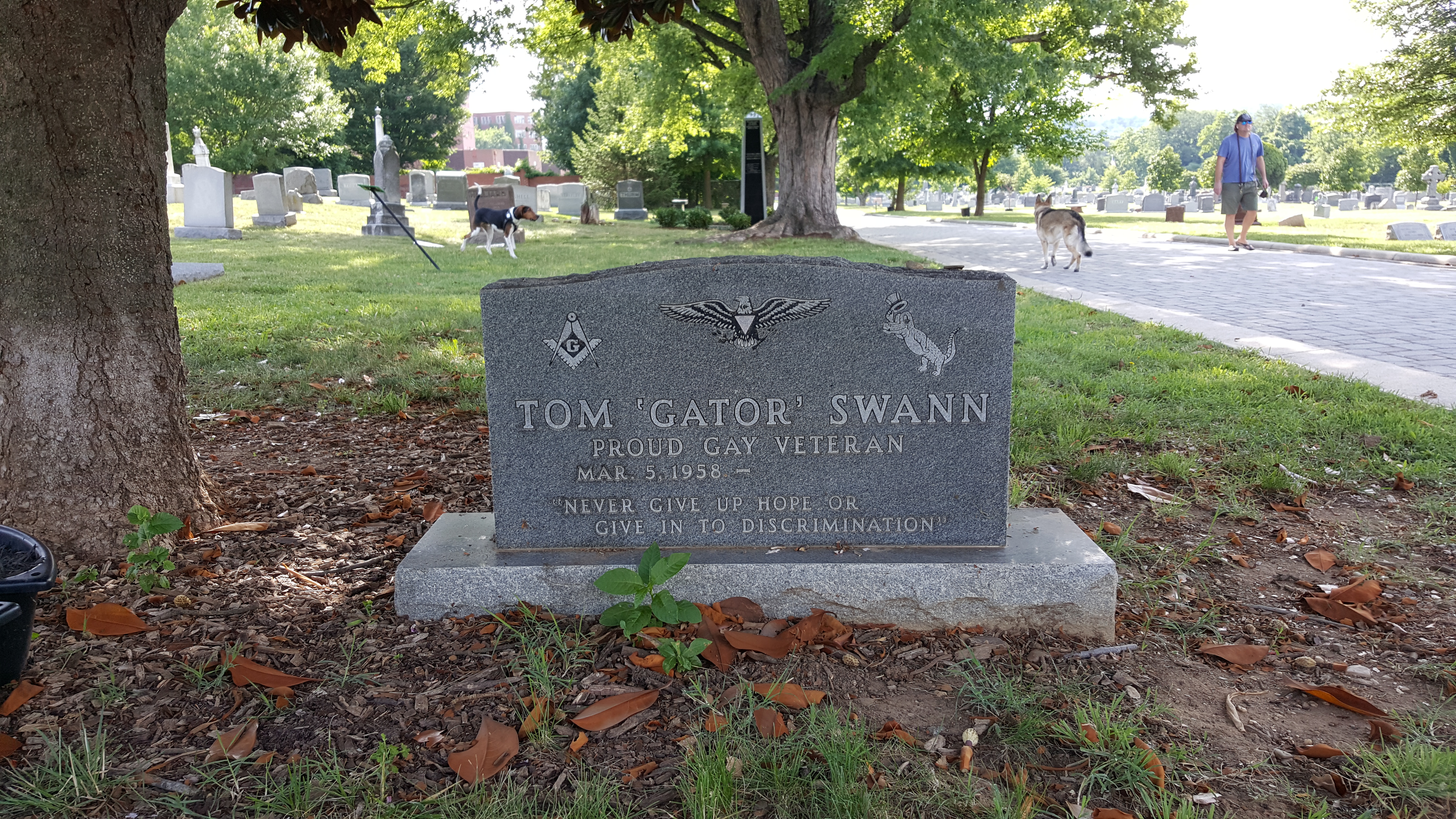 Curious who these graves belong to? Congressional has a handy print-out map of 15 notable LGBTQ individuals buried there. Some of them are easy to spot. Inscriptions like "Gay Pioneers" and "Gay Is Good" give them away. Others are trickier to find, like Peter Doyle, a Confederate army veteran and partner of poet Walt Whitman.
If you'd prefer a livelier in-person docent-led walking tour, the cemetery started hosting these three years ago as well. But you'd better book early. According to Congressional's program director, the tour keeps getting more popular. "It almost always fills up… we've had to turn away visitors."
Follow Simon Davis on Twitter.